About Fakoli
Fakoli is a lightweight, entity-based framework designed to simplify development of web applications. The framework is open source (under the MIT License). Currently somewhat dissimilar versions exist for PHP and .NET. This website relates to the PHP version only.
Conceptual Diagram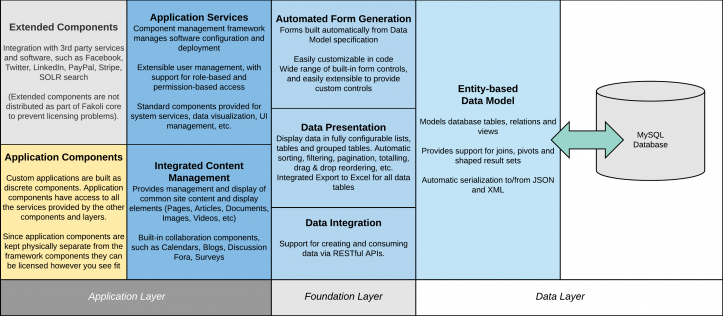 Current Usage
Fakoli is in current use in over 10 active websites, as well as several retired sites. Sonjara has been using it with our clients for several years and we are constantly adding new features and components to the code base which we are then able to offer to our clients for solely the cost of configuring their site to use these new features.
History and Investment
Since 2008, Sonjara has invested over $100,000 in labor hours to developing the core code, documentation and testing. We are in the process of rolling out Fakoli as a community offering available on SourceForge and on our website.
Fakoli Licensing and Copyright
Fakoli's open source MIT license offers you a free lifetime, unlimited use of the framework. By the completion of a contract with Sonjara using Fakoli, our clients own all custom code developed, as well as the specific configuration and extension of the framework that comprises the website. Sonjara only retains copyright on the Fakoli components, which are marked in the files and gathered together in specific folders.
Under the terms of the MIT license, our clients or their clients (depending on the terms of your contract agreements with them) can copy the entire website, including the Fakoli components, edit, sell all or part of the code base, hand it off to someone else, donate it, etc. The only limit of the Fakoli license is the use of the Sonjara, Inc. name to resell Fakoli services or solutions.
This license is essentially one step back from public domain. We selected this license specifically due to the nature of our U.S. Government and nonprofit clients who have very strict limitations about software ownership and copyright. It enables us to provide you with a highly tailored solution without burdening you with any onerous licensing costs.
Licensing Terms
Fakoli, Sonjara's Rapid Application Development Framework, is issued under an MIT Open Source License, giving users an unlimited license to Sonjara's Framework, Libraries and Components. All code items, which contain the following text in the header are issued under this license.
Permission is hereby granted, free of charge, to any person obtaining a copy of this software and associated documentation files (the "Software"), to deal in the Software without restriction, including without limitation the rights to use, copy, modify, merge, publish, distribute, sublicense, and/or sell copies of the Software, and to permit persons to whom the Software is furnished to do so, subject to the following conditions:
The above copyright notice and this permission notice shall be included in all copies or substantial portions of the Software.
THE SOFTWARE IS PROVIDED "AS IS", WITHOUT WARRANTY OF ANY KIND, EXPRESS OR IMPLIED, INCLUDING BUT NOT LIMITED TO THE WARRANTIES OF MERCHANTABILITY, FITNESS FOR A PARTICULAR PURPOSE AND ON INFRINGEMENT. IN NO EVENT SHALL THE AUTHORS OR COPYRIGHT HOLDERS BE LIABLE FOR ANY CLAIM, DAMAGES OR OTHER LIABILITY, WHETHER IN AN ACTION OF CONTRACT, TORT OR OTHERWISE, ARISING FROM, OUT OF OR IN CONNECTION WITH THE SOFTWARE OR THE USE OR OTHER DEALINGS IN THE SOFTWARE. http://www.opensource.org/licenses/mit-license.php