Managing Users
This section is about managing users, including creating new roles.
About User and Roles
Users are made up two parts:
Individual user information, such as username and password
User roles
User Information

Each user must have a unique username and password. Other information is optional.
Administrators can add, edit, delete, and make inactive all users. Administrators cannot view passwords, but can reset them as needed.
Roles

Fakoli comes pre-configured with two levels of user roles:
Administrator: has access to Fakoli back end, and all permissions

Member: has access to content items that are selected for that role.
Additional roles can be added as needed, and those roles are added automatically throughout Fakoli as additional restrictions on read/write access to different content items.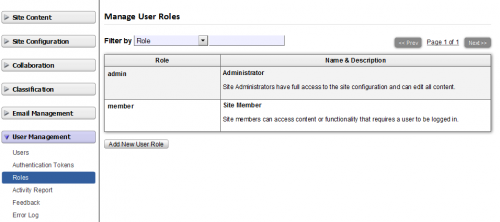 « Managing Taxonomies