Managing Taxonomies
Taxonomies are a simple way to add additional classifications to your content without editing the database. While we recommend creating custom data-models for extended classifications, taxonomies can be easy ways to manage simple classifications. Taxonomies can be applied to all content items.
Taxonomy Definition

The first step is to create the taxonomy definition. This is the name and description of the taxonomy such as "Software Platform", "Animals", or "US States". On the definition form, the associated content item classes are also selected. When a content item is selected, the taxonomy list will turn up automatically on the form.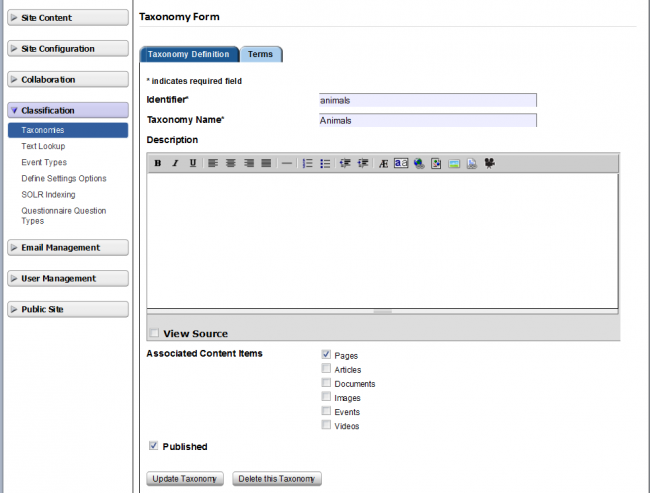 Taxonomy Terms
The taxonomy terms are the terms used to classify a content item within the taxonomy. For example, in Software Platforms "PHP", "JAVA", or ".NET".


Please note,
Fakoli is designed to allow programmers the ability to create a rich data model for data classifications. The taxonomy component in Fakoli is therefore designed to be limited to simple taxonomies rather than extensible.
Import Taxonomy Terms

Taxonomy terms can also be imported from a simple CSV file with two columns, in the following format:
"term", "definition"
"Cat", "Furry four legged creatures that purr and demand to be petted."
"Dog"," Furry four legged creature that bark and wag their tails a lot."
Managing Users »
« Managing Menus