Managing Blogs
This section describes how to manage blogs and articles, including managing commenting.
Create a New Blog
Navigate to Site Content / Blogs and click the "add new blog" button.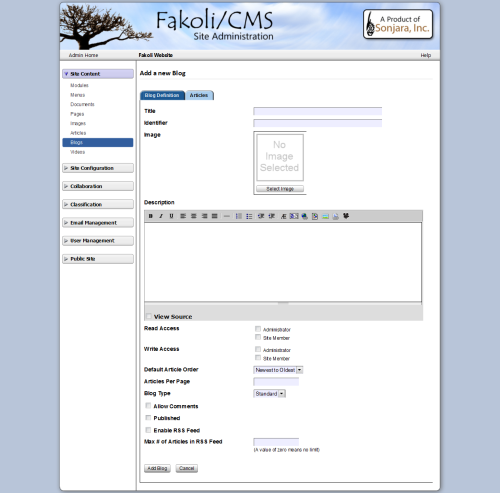 Field

Explanation

Title

Title of the blog

Identifier

Required, must be unique. Recommend using lowercase letters, no spaces. The identifier makes up the last part of the gallerys URL (e.g. www.fakoli.org/identifier)

Image

Optional. Upload or select an image to appear with the blog. You may also insert images into the blog descriotion via the rich text editor. See "Description" below.

Description

Optional. A description of the blog.

Read Access

Select all roles who can read this blog. If no roles are selected, the blog can be read by anyone.

Write Access

Select all roles who can write to this blog. If no roles are selected, anyone can add articles.

Default Article Order

Order articles in the blog will be listed. The choices are:

newest to oldest
oldest to newest
sorted order

Articles per page

How many articles are listed on the the blog summary page.

Blog type

The following blog types are available:

Standard:
News:
Book: Automatically puts links to articles listed immediately before and after.
Video:

Allow comment

Can users comment? (See Managing user comments below for more on how this works)

Published

Can remove the blog from publication, only available to administrators

Enable RSS Feed

Makes the blog content available in an RSS feed.

Max # of Articles in RSS Feed

If you wish to limit the number of articles in the feed.
Managing user comments
The two main comment configuration options are as follows: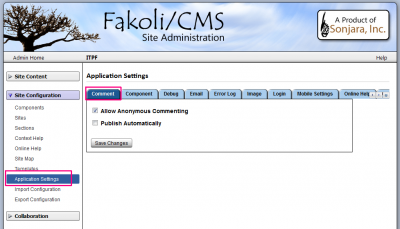 | | | |
| --- | --- | --- |
| Setting | Description | Options |
| Allow anonymous commenting | Does the comment form appear on blog posts for all users, or just for logged-in members? | Currently set to YES. All website visitors may use the comment form to submit a comment. |
| Publish automatically | Does a comment get published automatically, or does it get stored in an unpublished state until an administrator decides to publish it? | Currently set to NO. All comments are stored in an un-published state. The administrator may view un-published comments on a blog post page and can choose to publish them. |
View of moderated comments on a website
Managing Articles »
« Managing Pages