Managing Documents
This section describes how document libraries are set up and explains how to manage website documents.
About Document Libraries
All documents (PDF, Word, XLS, PPT) are organized into document libraries. Access to the document libraries can be controlled by user role, with different permission rules applied to different libraries.
To create and manage Document Libraries in the Admin section, navigate to Site Content > Documents.


Creating a New Library
On the Document Library home page, you will see a list of all your libraries or a statement that you have not yet created any libraries. Create a new one by clicking on "Add new Library".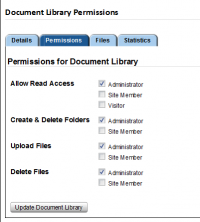 On the Details Tab, add a title and unique indicator for the new library.
On the Permissions Tab, you can set the permissions for the Library.

Adding documents to a library
Click on the Files Tab to upload the files into the right library. You can create subfolders or put all your documents in the "documents" folder.

Click on the "Upload a file" button. The document manager dialogue box will open.

The Title should be a meaningful title. Keywords and Notes are optional for your usage. Navigate to the folder or subfolder by clicking on the + next to the folder icon; that will display all the subfolders available in this library. Click the subfolder; by default the document will go in the main folder if no subfolder is selected or available.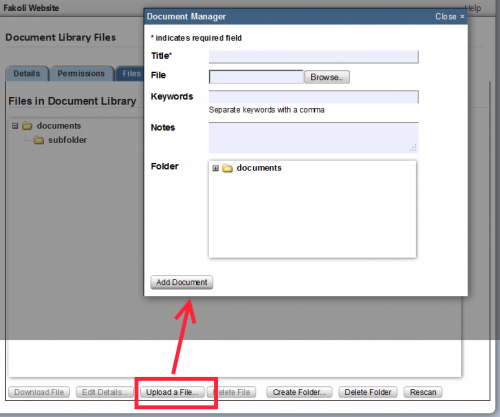 Adding a Content Item (such as a Page) to a Section »
« Managing Image Galleries